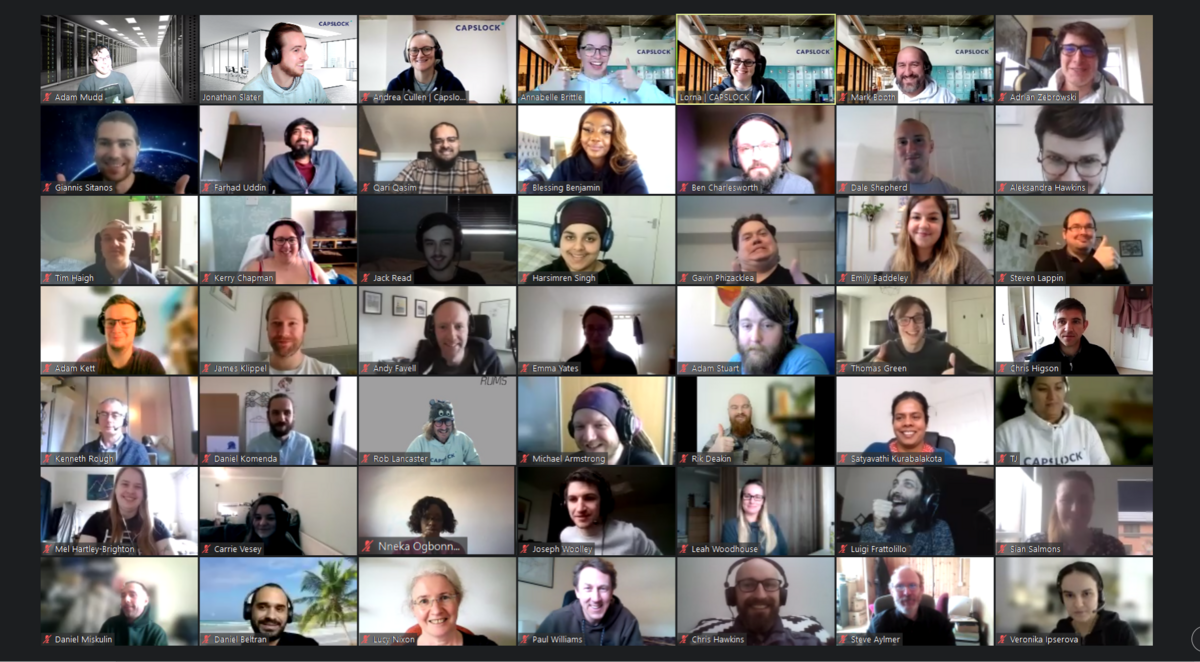 Breaking Down Barriers to Cyber Education

Cyber security has a reputation for being a particularly difficult industry to break into if you don't have years of technical experience.

According to CAPSLOCK, a cyber security education organisation, this elitist reputation isn't entirely accurate, and changing people's perceptions of cyber will help fill the UK's large cyber skills gap. That is why they are committed to helping more people from all walks of life to get into cyber, proving that it's never too late to retrain.

CAPSLOCK re-skill adults into cyber security professionals entirely online, within 6 months, and with no up-front costs. They are currently on track to re-skill 180 learners in their first year of operation, helping to plug the UK's cyber skills gap. Current graduates are being hired by the likes of Dyson and ITV, and are seeing an average salary increase of 54%.

Speaking about why breaking down barriers to education is such a key motivator for the company, CAPSLOCK Co-founder Dr. Andrea Cullen said: "The more our cyber workforce reflects the diversity of our society, the better our cyber solutions will be. At CAPSLOCK, we are committed to removing the traditional barriers which have prevented people of all genders, ethnic backgrounds and walks of life from entering the cyber industry. There are huge amounts of untapped talent in these demographics, and we want to help people access the education and support that will unlock their potential."

After engaging in discussions with NNECL about the needs of care experienced learners, CAPSLOCK realised that their approach features many of the desirable components which can help individuals with care experience feel more welcome and supported in a learning environment.

NNECL assert that education providers can deliver a more consistent offer for care experienced students by considering their needs in the following areas:



• Admissions and academic requirements

• Financial support

• Information, advice and guidance

• Pastoral support


CAPSLOCK believes that their online cyber bootcamps address many of these issues, making them a good fit for care experienced learners looking to retrain.

One of the main barriers that often prevents people from undertaking reskilling education is a lack of relevant academic experience or qualifications. CAPSLOCK realises that a history of disrupted education, which can be the case for many care experienced adults, should never prevent someone from accessing learning later in life.

That's why their entry requirements for their cyber reskilling bootcamps are based on a candidate's potential and not their past. There are no traditional academic entry requirements at all, so it doesn't matter if you don't have a degree, GCSEs or A Levels. Instead, they ask applicants to complete some pre-course work to assess their suitability. This allows anybody to access their re-skilling programme, regardless of their professional or educational background. You don't even need experience in IT or technology, as the course is suitable for those who are new to cyber security.

Removing the financial barriers to education was another must for CAPSLOCK. That is why they use Income Share Agreements. Instead of paying traditional up-front tuition fees, learners repay a percentage of their future income after they graduate, but only when they have landed a job and are earning a high salary.

Around 90% of their learners opt for an Income Share Agreement, and CAPSLOCK are now the largest provider of these agreements in the UK. For their inaugural courses, CAPSLOCK deferred over £700,000 in tuition fees so learners could join with no up-front costs.

CAPSLOCK are also striving to make their online retraining environment as supportive as possible. They have a growing group of mental health first aiders on their pastoral team who are always on hand to listen if a learner needs help. They also have a dedicated Learner Support team sitting in on all the live sessions to give help wherever it may be needed, whether that's with guidance on in-class work or technical support.

Outside the classroom, CAPSLOCK learners have access to in-depth career counselling in both group and 1-on-1 sessions. The careers team can help learners develop their CVs, get themselves noticed on LinkedIn, prepare for interviews and much more. Whilst many of their learners land jobs during or immediately after the course, the careers support continues after graduation. CAPSLOCK alumni always have access to careers guidance, so perhaps when they're looking to find a new cyber role in the future, the team will be happy to help.

The final aspect of CAPSLOCK's pastoral care is professional coaching. Their in-house coach provides advice, guidance and support to learners on an individual basis, helping them identify how they might build on their existing skills and fulfil their potential as individuals.

The above considerations, combined with CAPSLCOCK's inclusive attitude, makes their training courses a viable option for adults with care experience. Their bootcamps try to be as accessible as possible, both in terms of entry requirements and fees. They also put a lot of energy into the pastoral care side of the course, ensuring that each learner feels supported and respected throughout their CAPSLOCK journey.


For more information about joining one of their re-skilling bootcamps, visit https://capslock.ac.